The Content
Abstract
                       The Content
N
Papers
Author
Page
    1    
Introduction
Editors
1
    2    
The Content
Editors
43
    3    
Editorial
Editors
47
    4    
Employment of social networks in the service of the educational process: why? In what? And how?
El-Dahshan, Gamal Ali
Professor of "Foundation of Education", and Dean, College of Education, Menoufia University, Egypt.
51
    5    
Meta-Analysis of the Behavioral and Cognitive Effects of Interactive Video Games on K-12 Students
Uthman T. Alturki
Professor of Educational Technology, Educational Technology Department, College of Education, King Saud University
87
    6    
The role of smart schools to face counterfeiting media Forms in its teacher's point of view.
Ibrahiem, Heba Ibrahiem Gouda
Lecturer of Foundations of education, Faculty of specific education, Cairo University,
109
    7    
The extent to which E-learning is used to teach mathematics in the constructivist model
Al-Bado, Amal Mohammed Abdullah.
Asistant Professor of Educational Technology, University of Creative Sciences, UAE,
159
    8    
Exploring Reality of Human Development at Educational Institutions in Oman from the Principals' Perspective
Elsayed, Abdelkader Mohamed Abdelkader
Professor in Benha University, Egypt- Assoc. Professor in Dhofar University, Oman
Soliman, Moosa Ahmed
Chair of Education Department, Dhofar University
205
    9    
The State of Learning Translation among English Majors of Al-Quds Open University: Obstacles and Solutions
Dr. Ayman Hassan Abu Elenein
Assistant professor of Curriculum and English Instruction at Ministry of Education in Palestine and (part- time) Assistant professor at The Islamic University of Gaza
233
   10  
The requirements of applying Lean production in Egyptian Universities.
Mohamed Abdel Salam Mohamed Mahmoud El Balshi
An expert teacher in the Directorate of Education in Damietta Governorate
267
   11  
An overview of the research: Vocabulary learning strategies used By ESL Arabic-speaking students
Suliman, Alya A. K.
PhD Student, Department of Digital Learning and Instructional Technology, School of Distance Education and International Partnerships, Andrews University, USA
329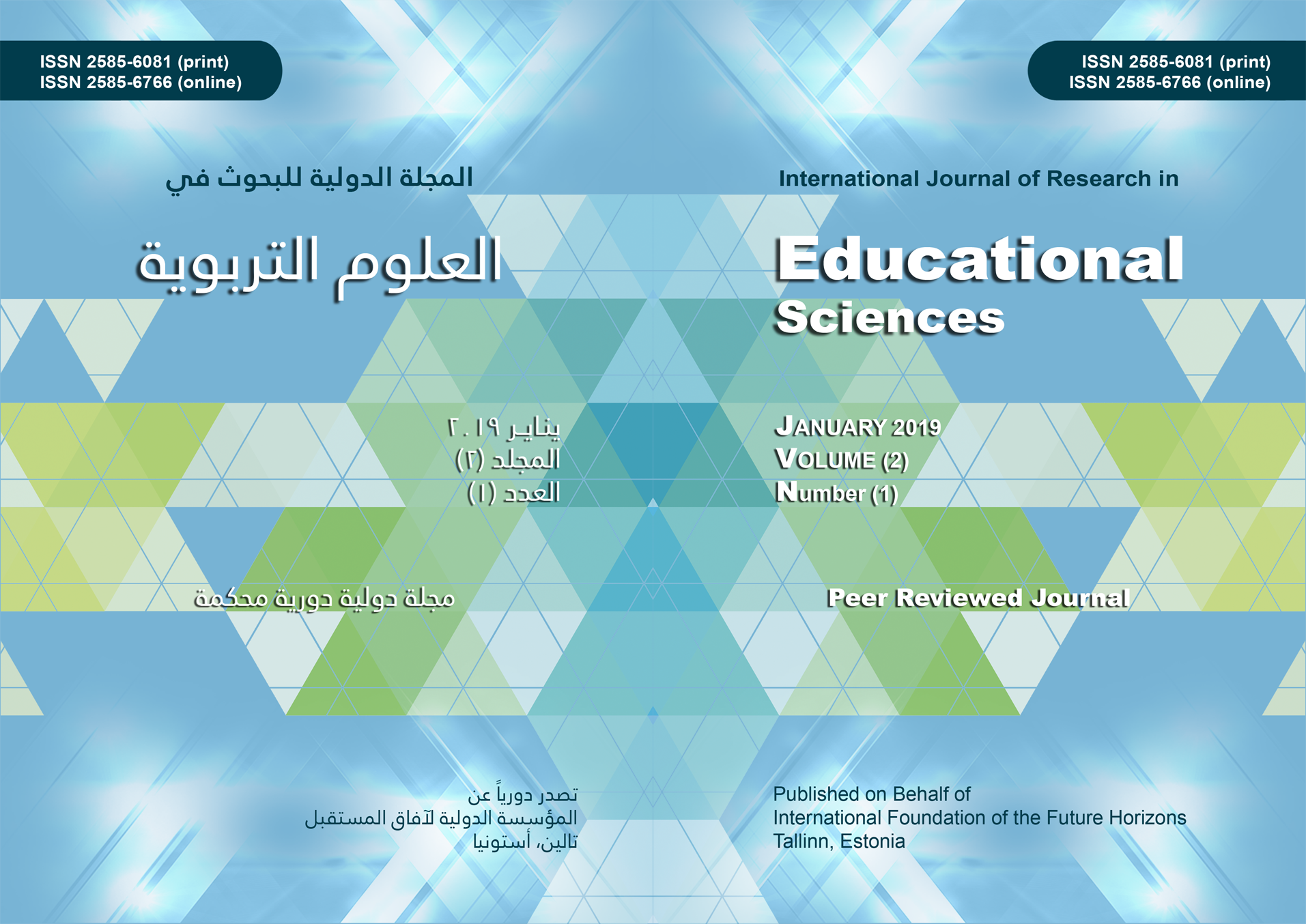 How to Cite
Admin, A. (2018). The Content. International Journal of Research in Educational Sciences. (IJRES), 2(1), 43- 46. Retrieved from http://iafh.net/index.php/IJRES/article/view/86
Section
Editorial and Introduction
Copyright (c) 2018 Hisham Barakat Hussein
This work is licensed under a Creative Commons Attribution-NonCommercial 4.0 International License.
Creative Commons License: CC BY-NC
Creative Commons Rights Expression Language (CC REL)