An overview of the research: Vocabulary learning strategies used By ESL Arabic-speaking students
Alya A. K. Suliman

PhD Student, Department of Teaching, Learning, and Curriculum, School of Education, Andrews University, USA, alya@andrews.edu.
Keywords:
Second language acquisition, Arab students, ESL, Attitude
Abstract
Abstract: The past and current research on Arabic-speaking students' second language vocabulary learning concludes that even though there is much research about the difficulties of learning English as a second language by Arab students, there is a need to increase the number of studies of the importance of teaching and learning vocabulary and the significance of understanding vocabulary learning strategies. Most second language learners encounter a great deal of challenge when learning vocabulary in the second language. Moreover, the number of experimental studies between 1980 and 2009 that focused on vocabulary outcomes for English language learners was limited and many of the instructional approaches used in these studies were built on approaches proposed for first-language learners, while others restructured the instructional tasks to meet the needs of English language learners. Also, there were limited studies on ESL vocabulary acquisition and its teaching and learning strategies by Arab students. Therefore, the current research calls for further experimental studies on the vocabulary teaching strategies used by Arab students. These studies should reassess the effectiveness of the vocabulary teaching programs for the purpose of designing better English language curricula that meets Arab students' English vocabulary needs. Students' attitude toward learning a foreign language may also affect their learning of new vocabulary.
Keywords:  Arab students, ESL, Second language acquisition, Teaching, Attitude
Downloads
Download data is not yet available.
References
Bibliography
• AbiSamra, N. (2003). An analysis of errors in Arabic speakers' English writings. Investigating writing problems among Palestinian students studying English as a foreign language. Unpublished doctoral dissertation. American University of Beirut.
• Al-Bustan, S. A., & Al-Bustan, L. (2009). Investigating Students Attitudes and Preferences Towards Learning English at Kuwait University. College student journal, 43(2), 454.
• Al-Othman, F. H., & Shuqair, K. M. (2013). The Impact of Motivation on English Language Learning in The Gulf States. International Journal of Higher Education, 2(4), p123.
• Ambrose, S. A., Bridges, M. W., DiPietro, M., Lovett, M. C., & Norman, M. K. (2010). How learning works: Seven research-based principles for smart teaching. John Wiley & Sons.
• Abu Shaikh Abdullah (2012) Arabic and English Language Differences. Retrieved from: https://www.youtube.com/watch?v=x4RMUjpy1r0
• Al-Khataybeh, M. M. (1992). An analysis of syntactic errors in the compositions of Jordanian tenth grade students (Doctoral dissertation).
• Al-Mamun, A., Rahman, M., Rahman, A., & Hossaim, A. (2012). Students' attitudes towards English: The case of life science school of Khulna University. International Review of Social Sciences and Humanities, 3(1), 200-209. Retrieved from: http://irssh.com/yahoo_site_admin/assets/docs/20_IRSSH-264-V3N1.131231435.pdf
• Asgari, A., & Mustapha, G. B. (2011). The Type of Vocabulary Learning Strategies Used by ESL Students in University Putra Malaysia. English Language Teaching, 4(2), 84–90.
• Brown, P. C., Roediger, H. L., & McDaniel, M. A. (2014). Make it stick. Harvard University Press.
• Brown, H. D. (2001). Teaching by principles: An interactive approach to language. Pedagogy (2nd ed.). San Francisco Public University.
• Bruzzano, C. (2018). 4 Counterproductive Learner Beliefs and How to Tackle Them. TESOL Connections.
• Daoud, S. A. (1998). How to Motivate EFL Learning and Teaching of Academic Writing by Cross-Cultural Exchanges. English for Specific Purposes, 17(4), 391-412. Retrieved from: doi:http://dx.doi.org/10.1016/S0889-4906(97)00024-0
• Dehbozorgi, E. (2012). Effects of Attitude towards Language Learning and Risk-taking on EFL Student's Proficiency. International Journal of English Linguistics, 2(2), 41. Retrieved from: http://www.ccsenet.org/journal/index.php/ijel/article/viewFile/16053/10799
• DePasquale, J. (2016) Content area literacy: Focusing on vocabulary. Scholastic News. Retrieved from: https://www.scholastic.com/teachers/blog-posts/john-depasquale/content-area-literacy-focusing-vocabulary/
• Eshghinejad, S. (2016). EFL Students' Attitudes Toward Learning English Language: The Case Study of Kashan University Students. Cogent Education, 3(1), 1236434. Retrieved from: http://www.tandfonline.com/doi/full/10.1080/2331186X.2016.1236434
• Farghal, M., Shunnaq, A., & Shunnaq, A. (1999). Translation with reference to English and Arabic: A practical guide. Dar Al-Hilal for Translation.
• Flanigan, K., & Greenwood, S. C. (2007). Effective content vocabulary instruction in the middle: Matching students, purposes, words, and strategies. Journal of Adolescent & Adult Literacy, 51(3), 226-238.
• Freeman, D. E. L. (1975). The acquisition of grammatical morphemes by adult ESL students. TESOL quarterly, 409-419.
• Ghazal, L. (2007). Learning vocabulary in EFL contexts through vocabulary learning strategies. Novitas-Royal, 1(2), 84-91.
• Graves, M. F., August, D., & Mancilla-Martinez, J. (2013). Teaching vocabulary to English language learners. Teachers College Press.
• Hall, N. (2016) How 3 Tiers of Vocab Make It Easier to Learn New Terms. TESOL Blog. Retrieved from: http://blog.tesol.org/how-3-tiers-of-vocab-can-make-it-easier-to-learn-new-terms/
• Khan, I. A. (2011a). Learning difficulties in English: Diagnosis and pedagogy in Saudi Arabia. Educational Research, 2(7), 1248-1257.
• Khan, I. A. (2011b). Diagnosis of Learning Difficulties in English: The Arabic Bilingual Context. Elixir Psychology, 36, 3448-3454.
• Lessard-Clouston, M. (2013). Teaching Vocabulary. TESOL International Association. Alexandria, VA. ISBN 9781931185974
• Odlin, T. (1989). Language transfer: Cross-linguistic influence in language learning. Cambridge University Press.
• Oxford, R. L. (1990). Language learning strategies: what every language teacher should know. Newbury House Publishers.
• Mahmoud, A. (2005). Collocation errors made by Arab learners of English. Asian EFL Journal, 5(2), 117-126.
• Nation, I. S. (2013). Learning Vocabulary in Another Language Google eBook. Cambridge University Press.
• Santos, S. L., & Suleiman, M. F. (1993). Teaching English to Arabic-Speaking Students: Cultural and Linguistic Considerations. Retrieved from: https://files.eric.ed.gov/fulltext/ED360876.pdf
• Saigh, K., & Schmitt, N. (2012). Difficulties with vocabulary word form: The case of Arabic ESL learners. System, 40(1), 24-36.
• Schmitt, N. (1997). Vocabulary Learning Strategies. In Schmitt, N., & McCarthy, M. Vocabulary: Description, Acquisition and Pedagogy. Cambridge: Cambridge University Press.
• Schmitt, N. (2008). Review article: Instructed second language vocabulary learning. Language Teaching Research, 12(3), 329–363. https://doi.org/10.1177/1362168808089921
• Suleiman, M. F. (1993). A Study of Arab Students' Motivations and Attitudes for Learning English as a Foreign Language.
• Xhaferi, B., & Xhaferi, G. (2008). Vocabulary Learning Strategies Used by Students at Seeu in Terms of Gender and Teachers' Attitudes toward Teaching Vocabulary. Tetove: CIP-Katalogizacija vo publikacija Nacionalna i univerzitetska biblioteka" Sv. Kliment Ohridski", Shkup.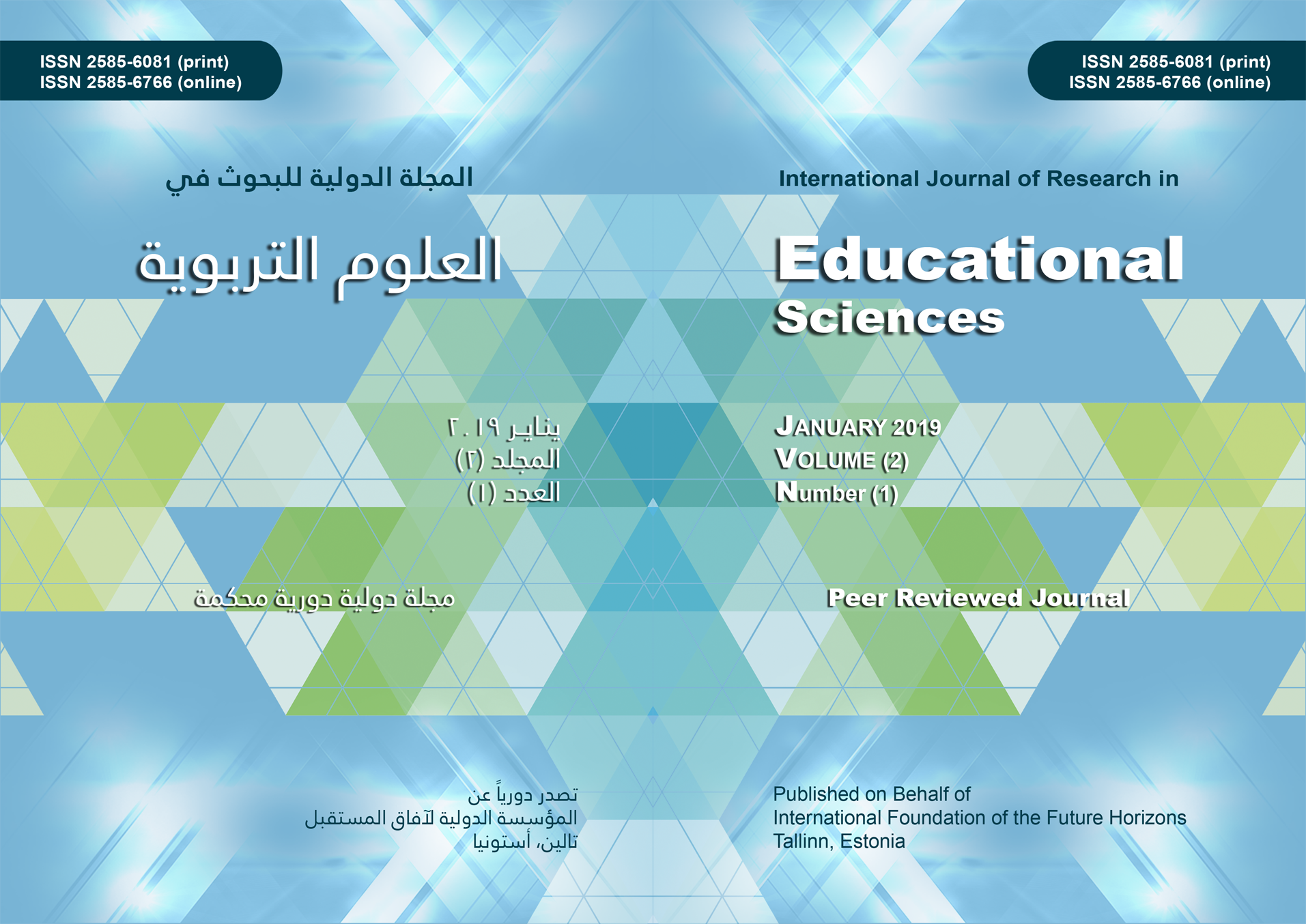 How to Cite
Suliman, A. (2018). An overview of the research: Vocabulary learning strategies used By ESL Arabic-speaking students. International Journal of Research in Educational Sciences. (IJRES), 2(1), 329 - 352. Retrieved from http://iafh.net/index.php/IJRES/article/view/84
Copyright (c) 2018 Suliman A. K. Suliman
This work is licensed under a Creative Commons Attribution-NonCommercial 4.0 International License.
Creative Commons License: CC BY-NC
Creative Commons Rights Expression Language (CC REL)