ICT in the Classroom: English Teachers' Perceptions and Practices
Laxman Prasad Bhandari

Lumbini Banijya Campus
Keywords:
Communication skills, English language teaching, ICT, student evaluation
Abstract
Along with the advancement of all other facets of human life, teaching and learning of English language at all levels have become easier because of the development of Information and Communication Technologies (ICTs). Technology has expanded the practices of English language teaching beyond the four walls of the class today. Many researchers have highlighted the necessity of ICTs in teaching English in the global context. The present study, using interviews and a group discussion, explores how teachers perceive the use of ICTs and make use of them in bachelor-level English language classrooms in Nepal. Although the findings of the present study are idiosyncratic, they are consistent with the life world of English language education in global contexts. The results showed that the use of ICTs in English language classrooms is the most crucial factor for developing language skills after the teachers themselves in the 21st century. The study showed that the knowledge of ICTs helped teachers make lesson plans, prepare teaching materials, implement lessons, engage students in readily available language tasks, and evaluate them. However, the results also revealed that teachers and some students' inefficiency in using modern ICT tools, frequent power cuts, and inconsistent internet services as the obstacles to ICT-friendly pedagogical practices. The findings of this study will be helpful to English teachers in planning their lessons, implementing them for the improvement of their students' English language skills, and evaluating their tasks.
Downloads
Download data is not yet available.
References
Acharya, C. P. (2014). Use of ICT/Web tools in ELT in Nepal. Nepal English Language Teachers' Association (NELTA), 19(1-2), 1-16.
Alfiani Nur, S. A., Muliati, & Munir (2021). English Teacher's Attitudes and Practices of ICT Adoption in English Language Classrooms. Celebes Journal of Language Studies, 1(2), 210-218.
Alkamel, M. A. A. & Chouthaiwale, S. S. (2018). The use of ICT tools in English language teaching and learning: A literature review. Journal of English Language and Literature (JOELL), 5(2), 29-33.
Almekhlafi, A. G., & Abulibdeh, E. S. A. (2018). K-12 teachers' perceptions of Web 2.0 applications in the United Arab Emirates? Interactive Technology and Smart Education, 15(3), 238–261.
Asian Development Bank (ADB). 2015. Innovative Strategies in Higher Education for Accelerated Human Resource Development in South Asia Nepal. Manila.
Bhandari, L. P. (2020). Technology in teaching English: In-service teachers' perceptions and practices. NELTA Bagmati, 2(1), 40-51.
Brordbar F (2010). English teachers' attitudes toward computer assisted language learning. International Journal of Language Studies (IJLS), 4(3), 179-206.
Cakici, D. (2016). The use of ICT in teaching English as a foreign language. Participatory Educational Research (PER), 73-77.
Cohen, L., Manion, L., & Morrison, K. (2011). Research methods in education. Rutledge.
Dhital, H. (2018). Opportunities and challenges to use ICT in government school education of Nepal. International journal of innovative research in computer and communication engineering, 6(4), 3215-3220.
Dixit, U. (2009, November 15-17). The use of ICT in teacher training: Nepal's experience [paper presentation]. 13th UNESCO-APEID International Conference on Education and World Bank-KERIS High Level Seminar on ICT in Education. Hangzhou. http://citeseerx.ist.psu.edu/viewdoc/download?doi=10.1.1.535.932&rep=rep1&type=pdf
Ghimire, N. P. (2020, May 18). Focusing ICT for development. The Rising Nepal. http://therisingnepal.org.np/news/8081
Gipps, C. V. (2005). What is the role for ICT‐based assessment in universities? Studies in Higher Education, 30(2), 171-180.
Gnawali, L. (2018). Teaching English in under-resourced environment. In D. Hydes (Ed.). English Language Teaching in Nepal: Research, Reflection, and Practice, (pp. 257-264). British Council.
Harrell, S., & Bynum, Y. (2018). Factors affecting technology integration in the classroom. Alabama Journal of Educational Leadership, 5, 12-18.
Kern, R. (1995). Restructuring classroom interaction with networked computers: Effects on quantity and quality of language production. Modern Language Journal, 79(4), 457-476.
Maru, M. G., Pikirang, C. C., Ratu, D. M., & Tuna, J. R. (2021). The Integration of ICT in ELT Practices: The Study on Teachers' Perspective in New Normal Era. International Journal of Interactive Mobile Technologies (IJIM). DOI:10.3991/ijim.v15i22.25533.
Nur, S. A., Muliati, & Munir (2021). English Teacher's Attitudes and Practices of ICT Adoption in English Language Classrooms. Celebes Journal of Language Studies, 1(2), 210-218.
Nworgu, K. O. & Didiugwu I.F. (2008). Bridging the digital divide in communications: Appraising the growth of ICTs in Nigeria. International Journal of Communication. No. 8, April, 2008.
Rana, K. (2018). ICT in rural primary schools in Nepal: context and teachers' experiences. [Unpublished Ph. D. Thesis University of Canterbury, New Zealand].
Rana, K., & Rana, K. (2020). ICT integration in teaching and learning activities in higher education: A case study of Nepal's teacher education. Malaysian Online Journal of Educational Technology, 8(1), 36-47.
Rana, K., Greenwood, J., & Fox-Turnbull, W.H. (2019). Implementation of Nepal's education policy in ICT: Examining current practice through an ecological model. The Electronic Journal of Information Systems in Developing Countries, 1-16.
Rodliyah, R. S. (2018). Vocational school EFL teachers' practices of integrating ICT into English lessons: Teachers' voices. Indonesian Journal of Applied Linguistics, 8(2), 418- 428.
Teo, T. (2008). Pre-service teachers' attitudes towards computer use: A Singapore survey. Australasian Journal of Educational Technology, 24(4), 413-424.
Thapaliya, M. K. (2014). English Teachers' perceptions and practices of Information and Communication Technologies (ICTs) in Kathmandu District, Nepal. International Journal of Academic Research in Education and Review, 2(10), 251-258.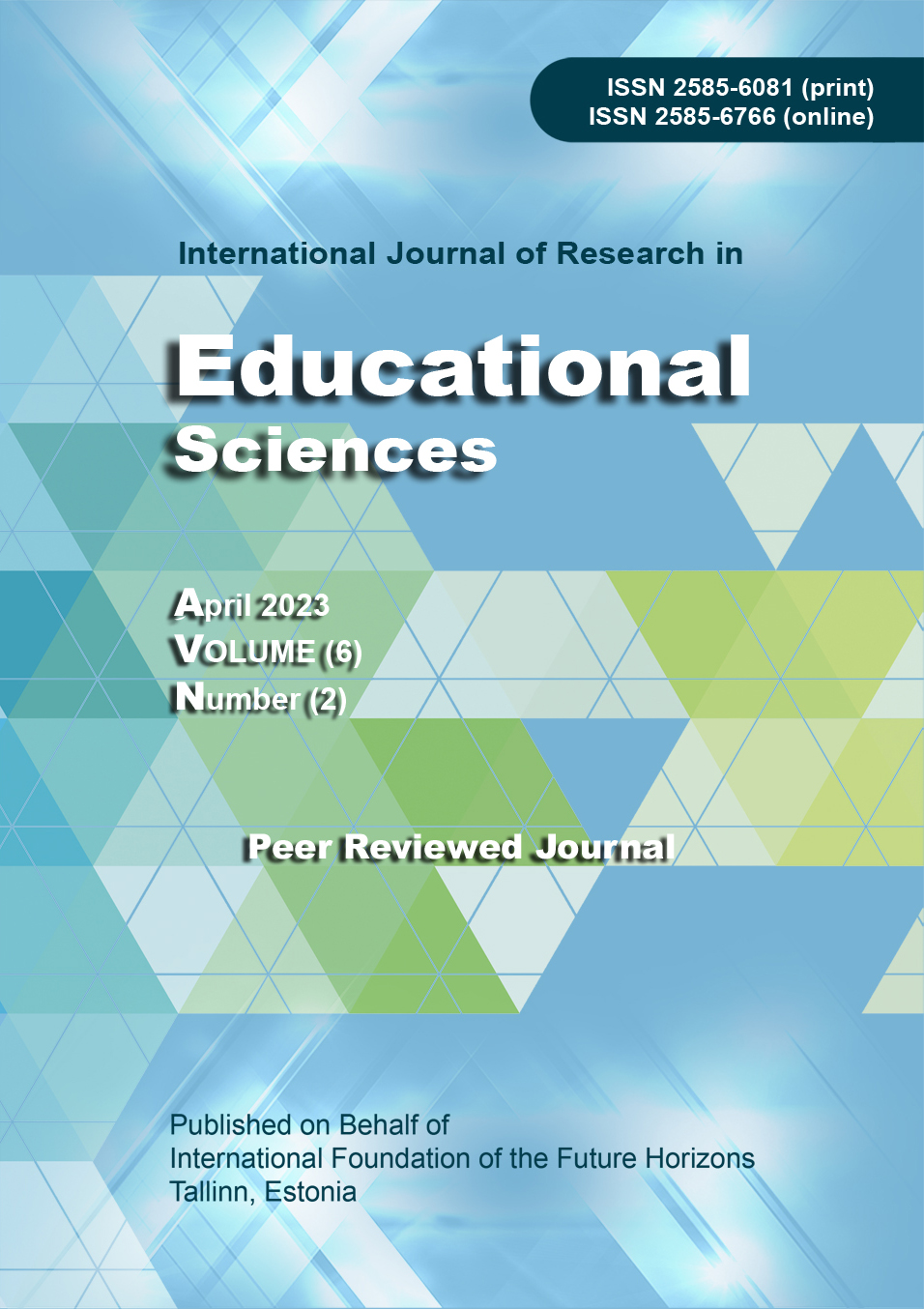 How to Cite
Bhandari, L. (2023). ICT in the Classroom: English Teachers' Perceptions and Practices. International Journal of Research in Educational Sciences., 6(02), 223 - 240. Retrieved from http://iafh.net/index.php/IJRES/article/view/398
Copyright (c) 2023 Laxman Prasad Bhandari
This work is licensed under a Creative Commons Attribution-NonCommercial 4.0 International License.
Creative Commons License: CC BY-NC
Creative Commons Rights Expression Language (CC REL)